I am in Halloween part mode, you too? If not or if you don't have any ideas yet about what to wear tonight, here are some inspirations in cooperation with and powered by
popsugar
.
The best Halloween costumes are inspired by the year's most memorable moments, and 2016 has been nothing if not memorable. We've had the Summer Olympics and a US presidential election, which dominate headlines (and Facebook timelines!) every four years. Throw in a
masterpiece visual album
from Beyoncé, the hype surrounding
Pokémon Go
, and the
candy-colored, quotable craziness
of
Suicide Squad
, and 2016 is basically begging for a Halloween costume bonanza.
We have become experts on all things Halloween — producing over one billion pageviews' worth of Halloween content.
That's where we come in. At POPSUGAR, we have become experts on all things Halloween — producing one billion pageviews' worth of Halloween content in 2015 alone — and we want to use our hard-earned Halloween expertise to define the season in 2016.
Our editors traveled far and wide for this year's Halloween inspiration: Our
Tech and Entertainment teams attended Comic-Con
to see the latest in cosplay and "geek" culture. Our News reporters traveled to
the Republican
and
Democratic National Conventions
. A Fitness editor headed to Rio for
the Summer Olympics
, where she reported back about
athletes' training schedules
and
shirtless Tongan flag bearers
.
Using a combination of our editors' creative instincts and data analysis, we've created a master list of the top 10 costumes for 2016. You can expect to see this handful of costumes everywhere this October, but don't worry: we've also got the scoop on how to execute them like nobody else.
Major moments:
Simone Biles dominated the 2016 Olympics, both on the floor and off. The pint-size athletic powerhouse earned over four million
social media followers
during the games. Biles's impressive agility and strength warrant comparisons to superheroes, so a superhuman take on the Olympian is our prediction for one of this year's top costumes. Super Simone Biles is going for gold!
How to create it at home:
In order to bring home the gold for cleverest costume, you'll need these things:
A red or blue leotard, like this one ($45)
A patriotic hair ribbon
Faux Olympic medals, like these ($9)
A superhero cape
Pose like you just stuck a perfect-10 landing or are flying like a comic-book hero, and you've got yourself the perfect costume.
Get the full Super Simone Biles tutorial here.
Honorable mentions:
Another costume-able moment from the Olympics is Michael Phelps's game face . . . better known as the
viral #PhelpsFace
. Ready to race his Olympic competition, Phelps emerged covered in
purple bruises from Chinese cupping therapy
and wearing an expression that lent him a somewhat villainous air. So if you see people looking angry on Halloween, look closer to check if they're wearing goggles underneath their hood!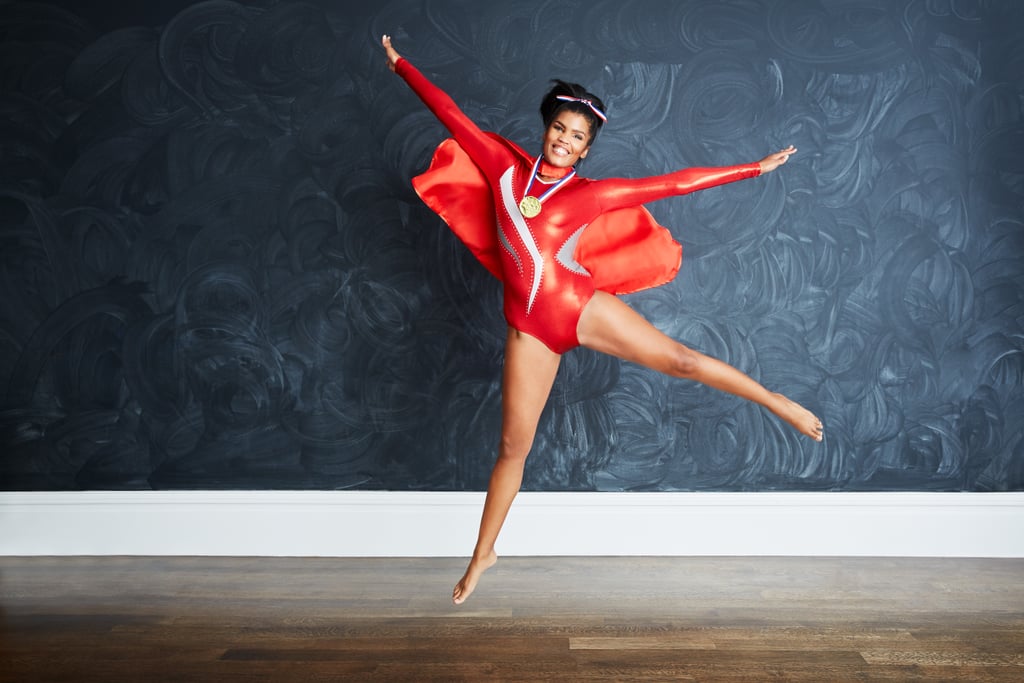 Image Source: POPSUGAR Photography/ Arturo Torres
Bill Clinton and His Balloons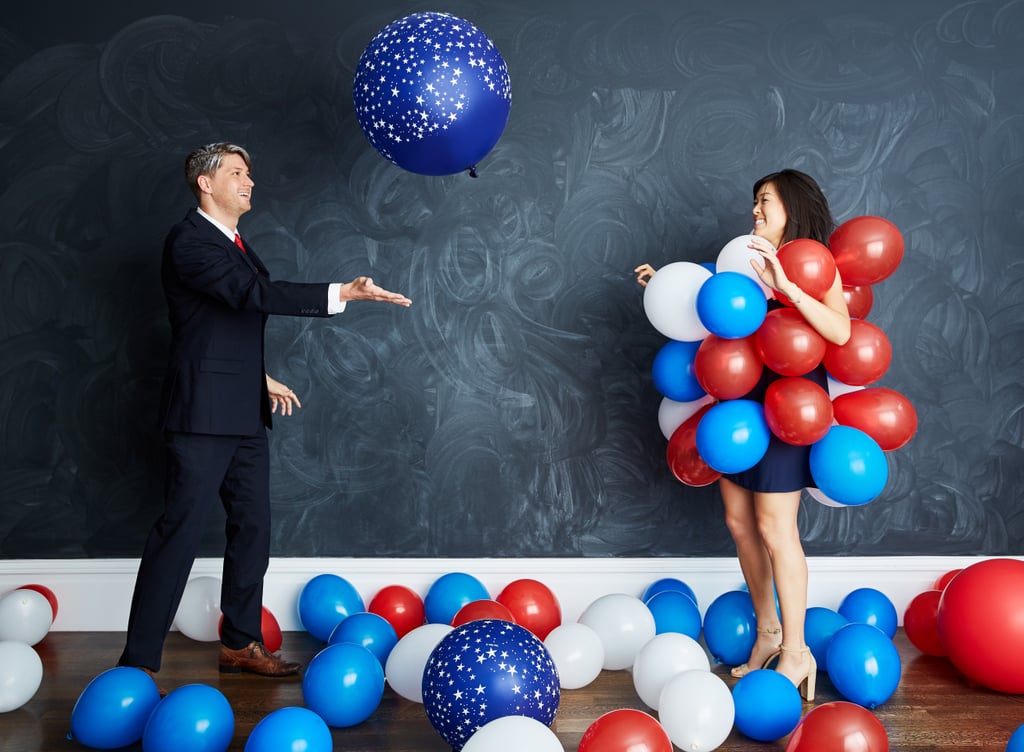 Image Source: POPSUGAR Photography/ Arturo Torres
Major moments:
Former President Bill Clinton became a kid again when celebratory balloons dropped at the DNC this year, and it was the lightheartedness the internet needed during this contentious election. Our editors who were in Philadelphia for the convention noted Clinton's hilarious reaction to the balloons, and Twitter couldn't stop buzzing about it afterward. The former president and his balloons became
an instant meme
, and they'll make a simple and hilarious Halloween couples costume this year.
How to create it at home:
To re-create Clinton's balloon-tastic DNC experience on Halloween, you'll need:
A suit and tie
Several red, white, and blue balloons
A gray wig
Bill Clinton's look of pure, unadulterated glee
One person should wear the suit and wig, while another covers themselves in balloons. Doing a solo costume? Simply wear that suit and carry a large balloon to your Halloween event!
Get the full Bill Clinton and His Balloons tutorial here.
Honorable mentions:
Donald Trump was a major source of Halloween inspiration this year, but it's impossible to decide which of his wackiest moments will be the most costumed. If we had to venture a guess, it would be The Donald eating one of
his infamous taco bowls
! And how could we not call out "
Birdie Sanders
" as a potential Halloween idea? The senator's moment with his feathered friend was something straight out of a Disney princess movie.
Image Source: POPSUGAR Photography/ Arturo Torres Product Credit: Party City Wig
How to create it at home:
To make your own Pokémon trainer costume, this is what you'll need:
A baseball cap
Athletic leggings
Sneakers
A backpack
Fingerless gloves, like these ($38)
Pokéballs (or sports balls painted red and white)
Optional: A stuffed Pokémon toy
If you don't have a stuffed Pokémon toy or a Pokéball at your disposal, you can just look down and swipe at your phone all night.
Get the full Pokémon Go Trainer tutorial here.
Honorable mentions:
While we anticipate trainers topping the Pokémon costume charts this year, we'd also like to call out PokéStops and fan-favorite Pokémon as honorable mentions. We're sure to see some pink-tinted lures and a fair few Charizards while trick-or-treating.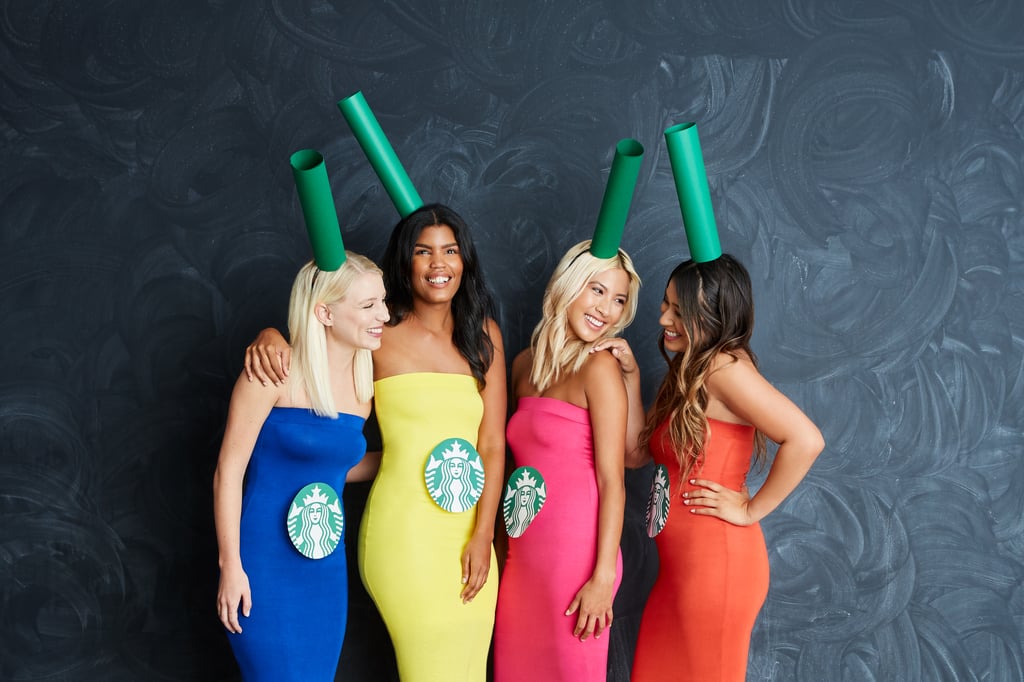 Image Source: POPSUGAR Photography/ Arturo Torres
Major moments:
Diehard Starbucks fans love to show off their obsession on Halloween,
dressing up as frothy Frappuccinos
or drawing other caffeinated costume inspiration from the brand. The so-called "
rainbow drinks
" (variations of Starbucks Refreshers and fruity teas that show off the color spectrum) blew up Instagram over the Summer, leading our Food editors and resident Starbucks aficionados to call them out as early Halloween favorites. Because Starbucks is a widely beloved brand and the
Insta-famous drinks
are an easy costume to replicate, we totally agree with their prediction!
How to create it at home:
If your group of friends wants to re-create the rainbow drinks, you'll need:
Colorful dresses, like these ($16)
Headbands
Green cardstock, shaped into straws
Printed Starbucks logos
Safety pins to attach logos to dresses
Have each of your girlfriends select a dress in the rainbow drink color scheme (pink, purple, blue, yellow, orange, and green), then create "straws" using green paper and headbands.
Get the full Starbucks Rainbow Drinks tutorial here.
Honorable mention:
Rainbow bagels
had their moment in 2016 and could make an appearance on the Halloween circuit this year. Rainbow drinks and rainbow bagels? Sounds like snack time to us!
Harley Quinn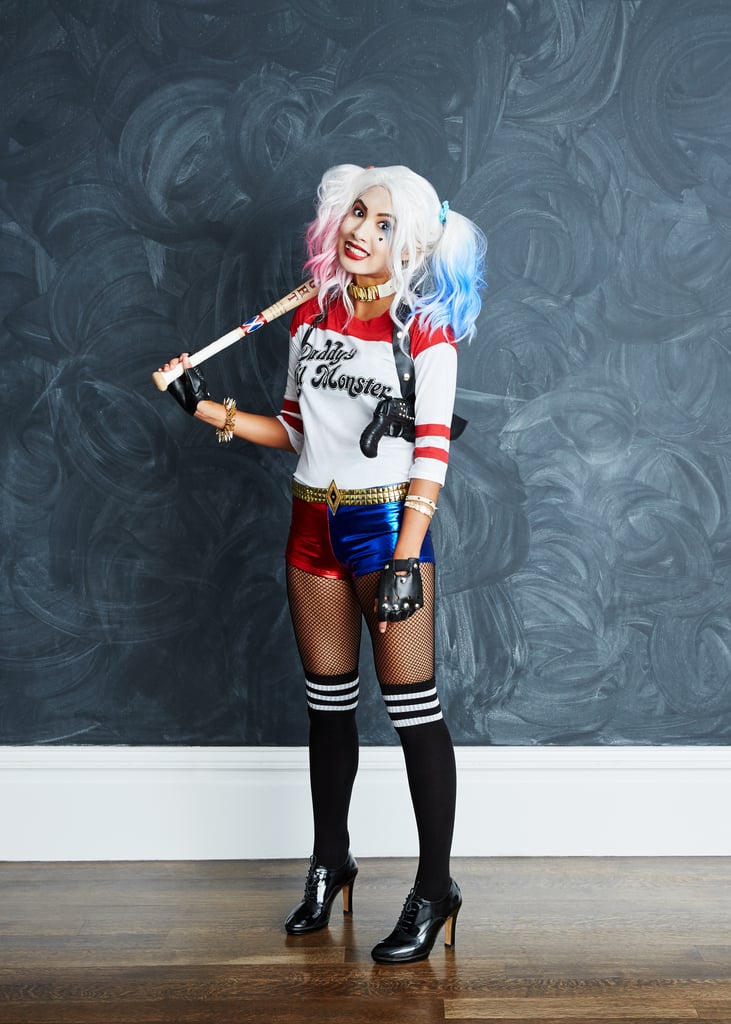 Image Source: POPSUGAR Photography/ Arturo Torres Product Credits: Party City Gloves
Major moments:
Eccentric
Suicide Squad
front runner Harley Quinn was the
most talked-about part
of the film, which was one of the
most profitable movies of the Summer
. After raking in
$300 million at the box office
,
Suicide Squad
became a bona fide part of 2016's pop culture; specifically, Harley Quinn's daring look and quirky attitude made her appealing to a broad group of women. We saw countless cosplayers emulate Harley's look at Comic-Con International and other cosplay events, which usually indicates Halloween costume trends months in advance, and
makeup tutorials inspired by the character
are all over YouTube. We're anticipating Harley-ween being a popular movement come Oct. 31.
How to create it at home:
Are you hoping to celebrate Harley-ween? Here's what you'll need:
Blue and pink makeup
Hair ties for pigtails
Red and blue shorts
A tattered white t-shirt
Fishnet stockings
Boots
A choker necklace, like this one ($14)
You can buy
replicas of Harley's clothes
at stores like Hot Topic, but if you want to create your own version, you can. The key factors to a Harley Quinn costume are colorful pigtails, a baseball bat, pink and blue makeup, and tattered clothes over fishnet stockings.
Get the full Harley Quinn tutorial here.
Honorable mentions:
The solo Harley costume reigns supreme due to its ease, but creating group, couples, or even family costumes that incorporate other
Suicide Squad
characters (such as the Joker or Enchantress) will also prove popular this Halloween.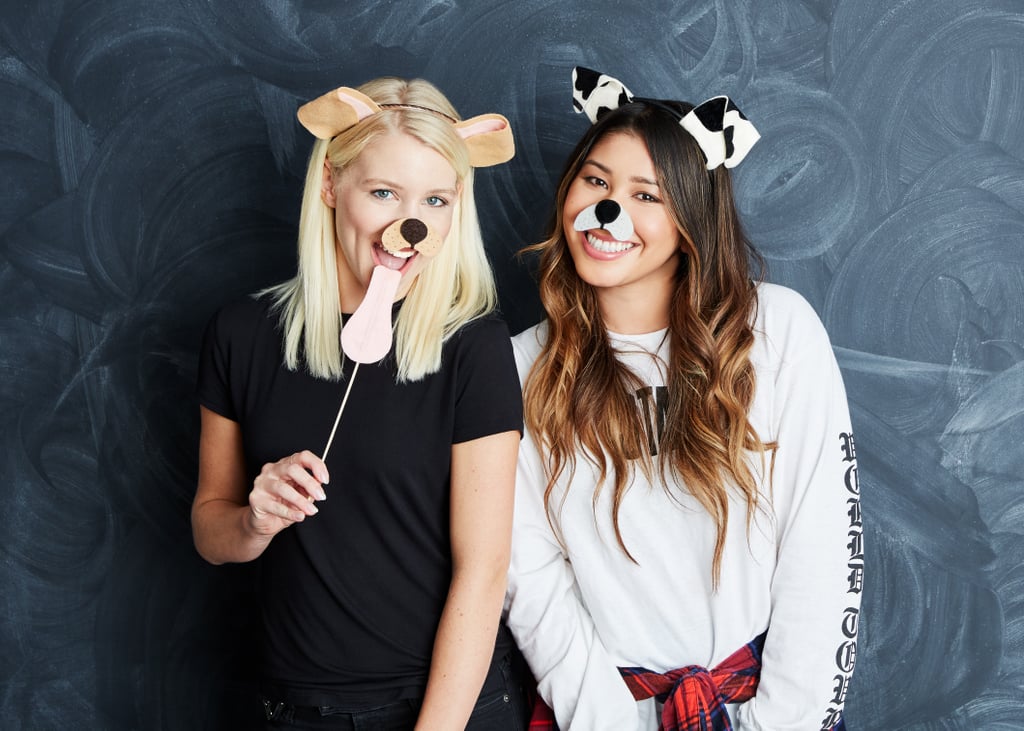 Image Source: POPSUGAR Photography/ Arturo Torres
Major moments:
Since Snapchat debuted face-altering filters in Fall 2015, they've quickly become a staple in millennials' daily lives. The Snapchat platform is hugely popular among the POPSUGAR audience — related stories have garnered over 120 million views since last Halloween! Prepare to see plenty of adorable puppy faces, flower crowns, and
wide-eyed faces with "rainbow puke"
during your 2016 celebrations.
How to create it at home:
If you want to bring your favorite Snapchat filter to life, you'll need:
Several colors of felt
Headbands
Scissors
Wooden kebab skewers or popsicle sticks
A hot glue gun
To achieve the puppy filter, simply create felt cutouts of puppy ears and features, add the ears to headbands, attach the nose to your own, then hold up a tongue using a small wooden stick.
Get the full Snapchat Filter tutorial here.
Honorable mentions:
Millennials will also gravitate toward emoji-inspired costumes this Halloween, proving yet again that it's way better to communicate with modern-day hieroglyphs than with real words. Emoji are a vital part of teens,' 20-somethings,' and 30-somethings' communication styles, and many tech-savvy folks have a "spirit emoji" to emulate. They're easy to replicate with everyday items like red dresses or sunglasses, so emoji will hop off your iPhone screen and into the real world on Oct. 31.
be safe, be classy, be an artist.